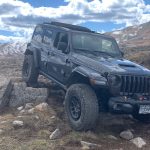 Gray 2022 Jeep Wrangler Unlimited Rubicon 392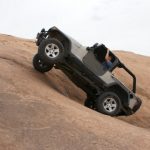 Khaki 2006 Jeep Wrangler Unlimited Rubicon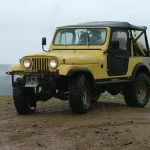 The morning started off with Mike, Gary, Walt, and Jeff heading off early to run the "Trifecta" of Poison Spider Mesa, Golden Spike and Gold Bar Rim while the rest of our vacationing group was going to leave later to run Rusty Nail. We were hoping to meet up at the Golden Crack on the Golden Spike trail at about lunch time.
We aired down at the Poison Spider Mesa parking area and started the day off right. Gary was driving Mike's Jeep because Gary's Jeep was in the shop in Moab. Gary had some bad luck on the trail the day before and he was without his Jeep. We started up to the Chutes trying all the different possible lines on the fun slick rock on the way up the first hill. Jeff was especially excited because this was his first real experience on slickrock.
At the Chutes, we all went around the corner to go up it instead of down the slickrock hill. Gary went straight up the obstacle and made it look easy. After he had made it up Gary spotted Walt to try a line on the far right side. Walt made a couple good shots at trying to make it up, but then decided to just back off and head up the easier way. Then it was Jeff's turn. Gary guided Jeff up to the same hard spot on the right side and due to Jeff's longer wheelbase he crawled right up it with no problems.
From the Chutes we continued up the trail until we came to the Waterfall. At the obstacle there were no issues, just a nice, long, continuous crawl up to the top where we came to the Wedgy. Gary kept trying to find the most difficult line he could, and then Walt and Jeff followed the same line through.
At the Sand Bowl we all split off and just had some fun trying to make rooster tails in the sand, and then we tried all of the different possible lines out of the bowl. Jeff tried the buggy path and couldn't make it, but it lead to an entertaining time.
The group opted to just hop straight on to the Golden Spike trail and skip the Tippy Dome and the rest of Poison Spider Mesa since it was already going to be a very long day.
Reports from Other Days: 12
Use the arrows or dots to flip through the previews of the other reports for Poison Spider Mesa. Click one of them to read more and see all of the photos from that day.