Membership
Descriptions of the different levels of membership and what you get with each one.
How can I log in if my email address changed?
If you don't have access to the email that you registered with, you won't be able to get email from the website -- everything else is fine. To update your email address, just log in with your username or your old email address. Then go to your Community Account to change your email. Submit that form and you're good to go.
I can't log in. What should I do?
If you're subscribing for the first time, it might be a bit confusing. Here is what you should be seeing:
Go to the Membership page to read more about subscriptions.
Click on one of the buttons to load the subscription form.
Fill out the form, selecting your payment method. There are some questions and answers on that page that might also help.
Submit the form.
Check the email account you used for your receipt.
Log in using either your username or email address and the password you set up.
You'll need to make sure you can get email from support@traildamage.com and it doesn't get caught in your spam filter. Sometimes email can take a few hours to get to you, but you should get your receipt emailed to you immediately after signing up.
If you have logged in before but you're having troubles logging in now, you may want to reset your password. To do that, click Log In and then use the Lost your password button to reset it. Then you can use that new password to log in (be sure to write it down or save it before continuing).
If you're having troubles with any of these steps, just contact us and we'll get it figured out. Keep in mind that it may be up to two business days before we are able to respond to you.
I'm locked out! How do I get in?
If you try to log in many times in a short amount of time and you aren't successful, the website will see you the same way it sees the "bots" that try to log in all day, every day. To protect the personal information of every Member and Subscriber, the website automatically blocks those bots from continuing to try to log in. So, you're getting blocked in the same way because the site can't tell you are a real person.
You can wait for your block to expire, or contact us to ask that we remove your block. Next time, don't try an incorrect password too many times in a row, and don't click the Log In button more than once while it's logging you in.
If I subscribe, can I add reports and update trails?
No, Subscribers can't update the information seen by people who are not logged in.
There are two different types of accounts on TrailDamage.com. Members have gone wheeling with us at least once, and Subscribers have not gone wheeling with us. Only Members who have been on at least three trail days with us can post reports and update trails. To become a Member, you must be sponsored by a current Member and invited to an upcoming trail run. To request sponsorship, just subscribe and post in the forum made especially for that type of request.
Why not let subscribers update trails and post reports? We pride ourselves on accurate information, and everything here has been verified by club Members. If we allowed anyone and everyone to update it, we would not be able to verify that it was accurate. There are other websites out there where you can post your reports and trail information, and we recommend that you post there. You'll notice that the information on those sites is pretty unreliable. For example, someone new to wheeling will think a 4-rated trail should be a 7, while someone who has been offroading for years will think it should be a 2. You can trust that all of our ratings are relative to the ratings for the rest of the trails on this site, so you can use them as a guide.
What happens when my membership expires?
A subscription is good for one year, and the website will send an email to you when it is almost expired. After that year expires:
Your account doesn't get deleted, so you can still log in with the same information.
Your Membership page will show that your subscription expired, with the date of expiration.

Your access to subscription-level portions of the site will be removed.
Any content you added during your subscription will remain, and other subscribers will still see it (for example, your Community posts, User Galleries, and Profile will still be there).
If you subscribe again, your subscription starts on the day you subscribe and it extends for another year. To subscribe again, log in and go to your Membership page. There you'll find a link to sign up again.

It is important to make sure that the subscription form has your information already prefilled. This is the only way to make sure your new year has the same account as the previous subscription. Just complete the form and your new year starts immediately.
When I try to log in it says I'm a bot. What can I do?
If the site tells you that you are a "bot" it means it thinks you're not really a person. It's guessing that because of how you're logging in. There are a couple things that you might be doing to make the site think you're not real.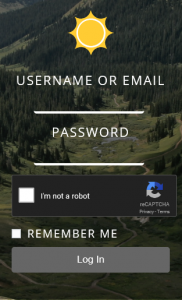 Make sure to check the "I'm not a robot" box and that it stays checked. This security measure is provided by Google, and it tries to get to know you as you log in to this and other websites. Once you've done it here and other places enough, it will leave you alone and all you have to do is check the box. Until then, it will ask you to do some photo matching and puzzle solving, things that non-people have a hard time doing. The box must be checked when you try to log in, or it will say you are a bot.
Make sure you wait long enough after clicking "Log In." If you double-click the log in button or if you click it again while it's processing, it will think that you are not a person because you didn't wait for the next page to load. This often happens on a cell phone because it's difficult to see the tiny progress bar in a cell phone browser. Click the button, and wait a little bit, watching for signs in your browser that it's working on logging you in, and don't click the button again.
Who are Members?
Members go on trail runs with the TrailDamage.com club. Unless a Member has been asked to leave, Members are always a part of the group. Members have Member Pages in addition to Subscriber Pages, and you can find them in the Forums if you are a Member or Subscriber. Each Report has at least one Member associated with it, in the list of people who were at that trail run.
You must be sponsored by a current Member in order to become a Member. There is no way to sign up for Membership on this website, and no other way to be invited on a future trail run. If you want to join, you have two options:
Find a current Member you know, and ask them to bring you along on the next run they do with the group (they must be with you).
Subscribe to this website to get access to the Forum where you can ask to be Sponsored.
Note that Sponsorship Requests are not guarantees, but they are the first place we look for new Members if we don't have other friends in mind. Any Member can sponsor a new Member.
Who are Subscribers?
Subscribers are people who have joined the TrailDamage.com website. They have Subscriber Pages and access to all of the protected information and forums on this site. Anyone can be a Subscriber if they wish, and you can find more information on the Membership page.
Offroading
How can I find out the status of a trail?
There are great ways to find up-to-the-minute information about trails.
Bushducks.com: this website accepts reports from anyone and everyone, so it's always up to date. You can also look at past years to see when trails usually opened and when they usually closed, for a good guess about what this year will look like.
StayTheTrail.org: news, maps, and general information about trails -- this is the place to go if trails are going to be changed or if access has been modified.
Motor Vehicle Use Maps (MVUMs): these maps from the forest service have the latest information from the source, so they are always good guides. Do an Internet search for "forest service" or a particular ranger district to get their maps.
GPS Software: there are lots of applications that let you wander around maps, including ExpertGPS (our favorite, with EasyGPS as the trimmed down and free alternative).
Printed Maps and Books: they aren't as up to date, but they have lots of the backstories around trails and how they came to be. Amazon.com has a ton of them.
If you're a Subscriber or Member, you can also post in the Forums to ask if anyone has specific trail information. There is a good chance that someone lives near the trail you're wondering about, or they just saw it.
What should I bring to the trail?
The challenge we all face is how to bring everything you need given the amount of room you have in your vehicle, assuming that's what you're using on the trail. We have a few tips to get you started, but you should customize this list as you see fit.
Safety
The most important things you can bring are things that keep you safe. You shouldn't be thirsty or hungry, and you should be prepared to either walk out or sleep on the trail if you break down and don't have a friend to drive you out. Here are some things to consider.
Enough water for everyone in the vehicle for the entire day, plus a bit more for emergencies
Enough food for the entire day, plus a bit more for emergencies
First aid kit
Sunscreen
Hat
Bug spray
Lip balm
Shoes you could walk in all day
GPS unit with your trails preloaded
Extra gas if you're going somewhere remote or on a long trail, and a way to pour it or siphon it to your gas tank
Offroading
Some things make it easier to take your vehicle offroad, and the more modifications you have the more you have to bring. Bringing another person as a spotter or another vehicle and driver are probably the best things you can do.
If you have a winch, also bring the remote, gloves, D-rings, a snatch block, and tree strap
If you don't have a winch, bring a Hi-Lift Jack and winching kit so you can use it as a winch
D-rings
Shovel
Air down your tires for a smoother ride and better performance in rocks, and a way to air up when you're done (experiment with the PSI you use, but be careful not to air down too far)
Vehicle Repair
It would be best to bring an extra part to completely rebuild anything that went wrong with your vehicle, but that's not possible. You can only bring the essentials, and that's different for each vehicle.
Tools
Full-sized spare tire
Jack that is big enough to allow you to change a tire (Hi-Lift Jack or something else)
Locking lug nuts key
Quart of oil
Power steering fluid
Duct tape
Self-fusing silicone tape
Bailing wire
Ratchet straps
Zip ties
Wire connectors and electrical tape
Spare axle shafts
Things you need to clean out your differential and change an axle shaft
Spare key
Comfort
Bottom line, you want you and your passengers to have a good time on the trail. Bring the comforts of home and camping out on the trail.
Camp chairs for everyone
Stool to use when you need to sit low to the ground, or to use as a foot stool
Hand wipes
Tissue
Small canopy or sun shade
Carrier for a water bottle if you decide to go on a short hike
Snacks (these will get all over the seats and floor of your vehicle, so choose wisely)
Good cooler that will keep drinks and food cold all day (or spring for a fridge in your vehicle for the ultimate comfort)
Extra clothes and shoes for everyone (you wouldn't be the first one to slip and fall in a mud puddle)
Light jackets and heavier jackets for everyone, in case you're out well after dark when it can get cold
Lastly, bring a camera that will take photos as well as videos so you can record the fun you had.
Site Information
Details about how to get the most from TrailDamage.com.
How do I find out when a new trail or report is posted?
There are many ways to find out about new trails, reports, members, and other updates to the site. The easiest way is to get push notifications. These are available for Chrome, Firefox, and Safari browsers on PCs, smartphones, tablets, and anywhere else you can load TrailDamage.com in one of these browsers. To get notifications, just allow them when the website asks you. You can also click on the bell icon at the bottom right of most pages.

Once you've allowed notifications from this website, a small box will pop up on your laptop or you will get a notification on your tablet or smartphone whenever something new happens. Click the icon again to turn them off and back on whenever you want, or roll your mouse pointer over the icon to see if you are subscribed or not.
If you don't want these types of notifications, you can follow us on Facebook and Twitter. We will post in social media when we add things to the site. You can also follow our YouTube channel if you only want updates about new videos. Find links to our social media channels on the left side of all pages on this site by clicking on the icons below the navigation.
How do I get information about a trail?
The majority of the pages on this website are available for free, but there are some pages that require a subscription. You must be a Subscriber to access those trail details (as well as other features only available to Subscribers). Simply sign up, and you'll have immediate access to all of the information we have about 4x4 trails in Colorado and Utah.
What are your support hours?
TrailDamage.com and its social media accounts are developed and managed by one person, Monica, who also has a day job. That means you can only expect replies to your questions and comments outside of business hours. That includes many evenings and weekends. If Monica goes on vacation or is traveling for work, you may not see a response for up to a week. So you can help yourself with login issues, always make sure you can get email from support@traildamage.com and use the password reset utility on the Log In page if you forget your password. If all else fails, just go wheeling and Monica will be back soon.
What do you mean by "Report?"
A Report is a snapshot in time of when TrailDamage.com Members have seen a specific Trail. It's where you find photos, videos, and information from that specific day.
What do you mean by "Trail?"
On TrailDamage.com, a Trail is a path through the trees and over rocks that we can drive with a vehicle. In addition to Reports about time we've spent on a Trail, there is also information about its location and what to expect when you're on the Trail.
Where does this information come from?
Everything is from the small group of people who are Members of TrailDamage.com. We may learn about a trail from another source, but we don't add it to the site until we've actually been there. That means all of the information is original to this site:
Trail maps and information (they're where we've actually been -- we never copy someone else's map)
Photos (we took all of them ourselves)
Videos (they're what we actually saw when we were there)
And everything else!
Because everything on the site has to be verified by a Member before it can be published on TrailDamage.com, you may see a trail here you know has changed. That's because we haven't had a chance to see the changes for ourselves, yet. But this also means you should look to other sites like Bushducks.com for up-to-date information. Our information was up to date as of the last Report for that trail.
Why so much security around logging in?
We take security pretty seriously, and we're storing a lot of names and email addresses. The security measures you'll find aren't really to protect the website's information -- it's to protect the information of our subscribers and members. As we build the community, users will be able to store more and more information so we can get to know each other better. It's vital that this information is protected from the prying eyes of hackers that are constantly trying to get in. Do your part by using a strong password that would be difficult to guess, and we'll do our part by keeping your information safe while it's in our care.