Archives for 2017
Trail Damage Winners
Each year, one lucky Member either breaks the most or has the most dramatic, interesting, or crazy recovery. We reward that Member with a trophy and the prize of winning Trail Damage of the Year.
2017
The best Trail Damage of 2017 goes to Monica running Chinaman Gulch on April 8th, 2017. She made it past the major obstacles and was on flat dirt when her power steering sector shaft broke in half. Without steering, she was towed through the Rock Garden and out of the trail with Frank and Quentin pushing her tires to steer.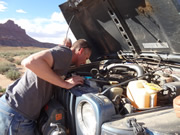 2016
The best Trail Damage of 2016 went to Matt running Big Water Canyon on May 14th, 2016. He couldn't have been much farther from civilization when he stopped, opened his hood, and pulled out a belt. His Jeep didn't want to run at that point, so Frank towed him out. It took about seven hours, but he made it back to civilization.