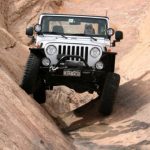 Silver 2004 Jeep Wrangler Rubicon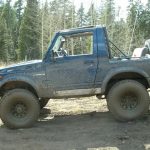 This trail has really changed a lot since we saw it last! We ran Carnage Canyon first, then headed from Five Points down the rest of Left Hand Canyon. It seemed like it was going to be mellow, but we really found a lot of fun.
There were some park rangers at the intersection of Carnage Canyon and Left Hand Canyon, standing near the big sign that is there. We said hello but we kept going.
The trail used to be very open and messed up, with lots of man-made, illegal trails all over the place. Now it is maintained with fences and steel posts, and it is very organized and easy to find. We drove by a spot where there was a fire a few weeks before, which was sad. It didn't look like it had claimed a very large area, thankfully, and the road seemed to have stopped it a bit.
We followed the fenced-in trail and barely recognized the Playground when we got to it. It was fenced in, and marked 286C -- it didn't have its own designation the last time we were there. Instead of the free-for-all that it used to be, it was a single trail.
That didn't mean that it was any more tame than the Playground used to be, though. It was pretty steep, rocky and challenging all the way to the top. We had a blast on our way up! Kendall had to work on it a bit but he finally made it to the top.
We turned left at the top to play on the chunky rocks at the highest elevation. Once we got to the other side we turned around to come back down them rather than continue back to the intersection with Carnage Canyon where we just were.
When we got back down we continued on past the top of the Playground to get to Big Momma Hill. When we got there we found it covered in untouched snow so we got out, worried that it would be too dangerous. Only the top was covered in snow, so we went for it.
Mike went first and slid sideways a bit on his way in. Soon he was on dirt so he kept going. Kendall slid even more because now it was getting muddy.
Big Momma Hill was as obnoxious as it always was -- it hasn't changed at all. We worked our way through slippery sections of dirt and mud, and through really big whoopdeedoos. The whole right side of the second half on the way down had a huge ditch in it, so we avoided that section.
Kendall came close to tipping his Samurai over at the top. He had a wheel in the air and thought he was going over, but then it came back down.
When we got to the bottom we turned around to go right back up. Mike went up first, and it seemed to be going well until he hit the muddy section of whoopdeedoos. He had to give it a couple tries, and it turned out to be a section requiring a bit of momentum. He gave it some gas and powered his way through it. He even slid around in the snow at the top, but he made it up just fine.
Kendall wasn't so lucky. He worked on it, but his Samurai just didn't have enough power to keep going on the steep hill. The hill is just too long to keep much momentum unless your engine and gear ratio can keep it going.
Now Mike was at the top and Kendall had to go back down to the bottom. We decided to meet at the bottom of the Playground. Mike had a good time working his way back down the Playground, though it was most fun going up.
Mike met up with Kendall and we worked our way back out to the trailhead. There were only two of us so the trail run went much quicker than usual and we were done with plenty of daylight left. It was a great time on the trail!
Reports from Other Days: 8
Use the arrows or dots to flip through the previews of the other reports for Left Hand Canyon. Click one of them to read more and see all of the photos from that day.