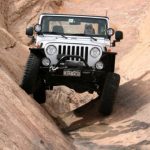 Silver 2004 Jeep Wrangler Rubicon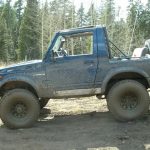 It was a strange trip for TrailDamage because there were only two vehicles in our group -- Mike and Kendall. We had decent weather and the trail wasn't icy, though there was a bit of snow and mud through much of it. We didn't see anyone else other than ATVs and dirt bikes on the trail until the end, so it was a quick run, too.
We didn't get on the trail until about 11:30AM and there were quite a few tow rigs near the trailhead. We expected to see other vehicles but we didn't, so we knew they were ahead of us. The early trail was sunny and dry, but it soon got shady and then the mushy snow was pretty constant.
We went around Guardian Rock, and The Squeeze was pretty mellow. It was definitely bigger the other times we had been there.
We had fun playing in the rocks, though we noticed that with the dark brown mud in the white snow you could really see where people had gone off-trail. It was sad to see. There was one good thing though -- there wasn't nearly as much trash all over as there seemed to be during our other trips to the trail. We hardly found anything to clean up.
We didn't really run into any troubles until The Slab. Mike had a hard time getting to it at all, because the rocks were so muddy and there were standing puddles of muddy water all over the place. He finally got up to it and worked at getting over it, but it was wet and covered with slushy snow and mud. The other side was packed with snow so it wouldn't have been too difficult to get over, but it was just too slick to get to the top of it. He finally backed down and went around it.
Kendall watched Mike work at The Slab, then decided to just go around. We kept going.
Mike took one look at the rocks at The Waterfall and decided that going around it to the left was the best idea. There was a steady stream of water running around it and it was very muddy. He didn't have any issues, though.
Kendall tried to go through the right line of The Waterfall but there was no way. He hit the front of his frame about a foot down from the top of the smallest rock, and he couldn't get up on it at all. It's way too tall.
He started to go around it to the left but then his Samurai died on him and he couldn't get it started again. Mike helped him try to push it somewhere level but it was pretty stuck in holes so it was too hard to push out. Kendall finally got a hammer and threatened the solenoid that was sticking, then managed to get it started again. After that he had no trouble getting around the rocks.
The rest of the trail was pretty uneventful, and it wasn't long before we got to five points and found a bunch of other vehicles. We had lunch and visited with everyone, then we headed off to Left Hand Canyon (Fireman's Hill is too crazy for us!). It was a great day on the trail!
Reports from Other Days: 8
Use the arrows or dots to flip through the previews of the other reports for Carnage Canyon LHC. Click one of them to read more and see all of the photos from that day.