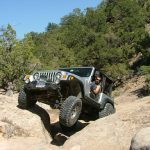 Silver 2005 Jeep Wrangler Rubicon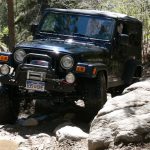 Black 2006 Jeep Wrangler Unlimited Rubicon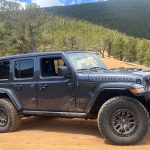 Gray 2022 Jeep Wrangler Unlimited Rubicon 392
We had just finished Poughkeepsie Gulch, and the weather seemed to be changing on us. It got windy and a bit chillier, and it felt like winter. Still, you can't do much better than California Gulch.
The initial climb from the end is desolate and bare, but pretty. You can see for miles, and Lake Como from above is very scenic. It wasn't long before we were at the pass, though, and headed down the other side.
The other side has some spectacular scenery, too. There were big patches of yellow wildflowers that we all chatted about. It was definitely a pretty drive.
When we got to Animas Forks, it was time to bundle up the vehicles and ourselves. Windows went back in, and soft tops went back on. We wandered around Animas Forks with a few other people (no pamphlets were available, unfortunately), and it looked like most people were not prepared for the weather.
A lot of the buildings have been brought back to pretty good shape. The Duncan House was fascinating, with all of the big windows. We wondered, did that make it awfully cold in there at night and in the winter? Still, it had the best views. It was a very nice house.
We took yet another evening vote. We had planned on doing the Alpine Loop, but with the weather rolling in and sunset fast approaching, we figured we just didn't have the time. Besides, who wants to finish a gorgeous loop like that in the dark? We decided to leave Engineer Pass and Cinnamon Pass for another trip.
So we headed back to the Silverton area on the easy road, but instead of going in for dinner at a decent time, we headed off to Stony Pass. Of course!
Reports from Other Days: 2
Use the arrows or dots to flip through the previews of the other reports for California Gulch. Click one of them to read more and see all of the photos from that day.