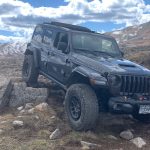 Gray 2022 Jeep Wrangler Unlimited Rubicon 392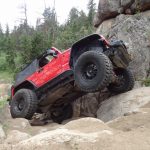 Red 2010 Jeep Wrangler Rubicon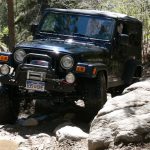 Black 2006 Jeep Wrangler Unlimited Rubicon
We accidentally ended up on Dubinky Well Road after missing our turn on Hidden Canyon. That put us very near the trailhead for Bartlett Overlook, so we adjusted our plans. It ended up being a great idea.
The road was very mellow at first, and we figured it would stay that way. It didn't, though. It got rocky very suddenly, and we wondered how many people accidentally found themselves in over their heads. It was definitely a remote area, and it would be a bad place to get stuck in a stock SUV.
We got to the big intersection with Hidden Canyon Overlook, and then continued on to Bartlett Overlook. It wasn't long at all before we were there.
It was gorgeous! The rock formations were all so different, and all right next to each other. It really felt like we were in the middle of nowhere, too.
We snapped a lot of pictures and enjoyed the views, and then we headed back to the intersection with Hidden Canyon Overlook. This ended up being a really great trail. It would be perfect for someone just graduating to moderate trails.
Reports from Other Days: 2
Use the arrows or dots to flip through the previews of the other reports for Bartlett Overlook. Click one of them to read more and see all of the photos from that day.