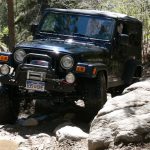 Black 2006 Jeep Wrangler Unlimited Rubicon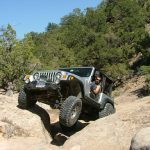 Silver 2005 Jeep Wrangler Rubicon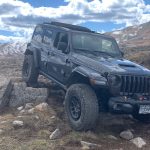 Gray 2022 Jeep Wrangler Unlimited Rubicon 392
The last time we were here, only Bob R. and Monica did Stony Pass on the way home to Denver. We did it the long way, all the way out to Creede. It was a very, very long trip. We were only going to the intersection with Kite Lake and back, this time, and we planned on seeing all of Cunningham Gulch, too.
Sometimes things don't go as planned. We used the first section of Cunningham Gulch to get to the Stony Pass trailhead, and we planned on coming back to finish Cunningham Gulch. Our only diversion was the Gary Owen Mine.
We didn't see that mine the last time, and it was a very interesting one. There were people setting up camp right next to it, but we wandered in around their stuff to check it out. A tramway tower was leaning up against a building, and the rail tracks were pretty intact.
The mine was closed up, but you could see tracks coming out of it. The tracks circled around and eventually ended, but it was pretty complete to that point. There was a tramway tower in the distance, still with cable attached.
That was a good mine to see, so it was good we didn't skip it. Still, we were soon off to the pass. As we got closer to the pass, it began to rain. And this is the rain we'd have until we got back to Denver.
It was chilly and wet, and you couldn't see very far. It was unfortunate, because we knew that the scenery was very pretty on this side of the pass. So we descended down to the other side as it got more and more dreary.
We also talked about doing Kite Lake, and in the end we decided we'd do that trail, too. We were all the way out there, so why not? It ended up taking longer than we'd planned, so we finished the rest of Stony Pass in the dark.
If we didn't do some night wheeling it wouldn't be TrailDamage, now would it?
Report from a Different Day