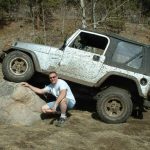 Silver 2002 Jeep Wrangler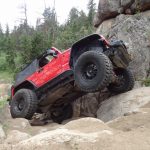 Red 2010 Jeep Wrangler Rubicon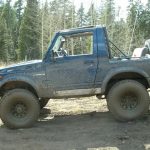 It was really snowing in the morning, though it cleared up to only snowing a little bit here and there by noon. Monica had a tough time keeping the TJ on the trail so she gave up and parked pretty early.
Then Dave's TJ needed a little winching help up a hill. We got to the "T" in the road and a bit further, then found the first downhill part. Kendall went down but it was snowing a lot so we decided to give it up and do it another day (he and Rachel had a couple scares on the tough way back up).
Kendall and Mike had some fun on a big hill near the entrance, then we left.
It was strange getting home with the sun still up!
Reports from Other Days: 15
Use the arrows or dots to flip through the previews of the other reports for Slaughterhouse Gulch. Click one of them to read more and see all of the photos from that day.