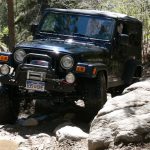 Black 2006 Jeep Wrangler Unlimited Rubicon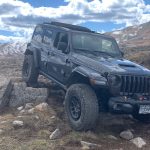 Gray 2022 Jeep Wrangler Unlimited Rubicon 392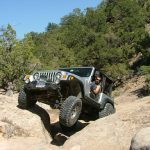 Silver 2005 Jeep Wrangler Rubicon
We had spent so much time on Mineral Creek that it was already time for lunch when we got to the trailhead for Poughkeepsie Gulch. We were hoping to watch the parade of vehicles always going by the trailhead, so we set up our chairs right there. The place had a few flies annoying us, but otherwise it was a good lunch.
But we didn't see many vehicles. We took that as a good sign. Maybe most of the people had already come by here an hour or two ago, which would make sense. Most people running Poughkeepsie Gulch are running only that trail, or they run it first.
We started on the trail, and the sun seemed to be leaving. Still, the weather stayed pretty nice. We enjoyed the few rocky bits, and then we could see the obstacle in the distance.
The rocky hill was a fun climb, and everyone was surprised how it kept going. It seems like it's going to be mellow, but then the loose rocks and the steady climb kill your momentum.
We got to the base of the obstacle and found ourselves alone. That was good. It had really changed since 2004, too. Back then, it was a free-for-all, and you could go up multiple lines. The last time, a lot of us took the hill on the left, a bypass even though it was also fairly difficult. This year, it was closed.
The only way you can go, now, is over the big rock. This must stop quite a few more people. There is cable up all over around the obstacle, with signs and winch points in quite a few places. That was handy. In the rain, this obstacle would be a mess.
We were all looking at different lines, and Don tackled it first. He started to go up the steepest rock on the left, but after climbing up on it he didn't feel comfortable so he came back down.
He tried the "V" notch next, and he spent quite some time trying different lines. Walt spotted him, and Monica tried lining him up different ways. No matter what he tried, he would always get too close to the rock on the right. When he could finally stay away from it, he couldn't get enough traction to get up.
We have no idea how he escaped with only damage to his rear fender flare. It looked like he should have had some body damage, too. He scraped up a rocker guard, but that's what they're for. He finally had to give up and come back down.
At this point, people were starting to show up who were coming down in the other direction. Some came through, and then we all went up the rock on the right. It was disappointingly easy, but it was still fun.
Don made it look incredibly simple. Then Michael went up and found he barely had enough clearance, having to give it gas to get through it. Walt went last, engaging lockers at the last second on his way up.
We were through it, and we said our goodbyes to the rest of the people there. The rest of the trail was nice, with a few more bumpy sections to play on. Lake Como was pretty, but unfortunately we didn't have any sunlight. It was overcast and a bit chilly as we finished, and then did California Gulch.
Poughkeepsie Gulch is always fun, and though they've changed the obstacle a bit it's still a good one.
Reports from Other Days: 2
Use the arrows or dots to flip through the previews of the other reports for Poughkeepsie Gulch. Click one of them to read more and see all of the photos from that day.