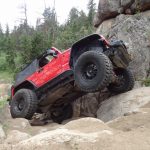 Red 2010 Jeep Wrangler Rubicon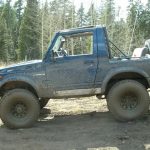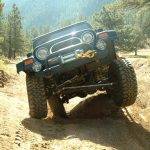 This trail is pretty far away, in between Vail and Leadville near Minturn. It's known as one of the hardest offroad trails in the state and we were all excited to see how far we could get -- we all hoped we could make it to the ruins of the city at the end of the trail but we knew we might not be able to make it that far. Kendall got out the tools and disconnected his Cherokee's sway bar, so he had a blast all day with the new feel and performance out of "Rokee."
Dave's Jeep is massive and never had any difficulties, and Monica kept up just fine. There are a series of challenges, most notably the crossing at French Creek. Kendall tried for a long time in his stock Cherokee but finally had to give up after ripping off a fender flare and denting in his driver's side rocker pretty well. He hopped in Monica's Jeep and we continued up to the City to explore.
Coming down was almost as fun as going up! We left Morrison at 8:00AM and got back at about midnight -- exhausted, dirty and happy.
Reports from Other Days: 11
Use the arrows or dots to flip through the previews of the other reports for Holy Cross. Click one of them to read more and see all of the photos from that day.