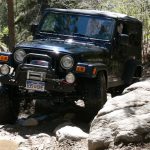 Black 2006 Jeep Wrangler Unlimited Rubicon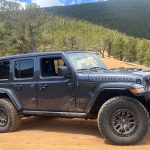 Gray 2022 Jeep Wrangler Unlimited Rubicon 392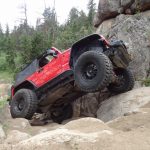 Red 2010 Jeep Wrangler Rubicon
We had just finished the Pickle where we had to leave half of our group. Don, Bob and Kendall all received too much damage to finish the day, so it was just Monica, Michael and Walt for the rest of the trails. It was depressing.
Hidden Canyon ended up being the most boring of the day's trails, though it was pretty scenic in spots. We ended up doing it in a strange way, though, because we were confused about how to get into the canyon.
We finished the Pickle but didn't realize that the end of the Pickle is also the turn to get into Hidden Canyon. Instead, we kept going southwest until we realized we were almost to Dubinky Well Road. We changed our plans and did Bartlett Overlook, then Hidden Canyon Overlook, and then we finished Hidden Canyon.
The last half was definitely the best half. There were lots of bike tracks in the sand in the canyon. We decided not to take the short trip to the dead end and instead turned into the wash. It was cool to curve around along the sandy trail. All in all, it was a relaxing trip.
Once we finished Hidden Canyon we were done, so we headed back to Moab to see how our friends were doing.
Reports from Other Days: 2
Use the arrows or dots to flip through the previews of the other reports for Hidden Canyon. Click one of them to read more and see all of the photos from that day.