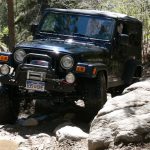 Black 2006 Jeep Wrangler Unlimited Rubicon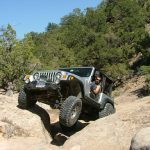 Silver 2005 Jeep Wrangler Rubicon
We were going to run Moab Rim, but at the last minute we decided to run Copper Ridge instead. It was a new one for the group, and one we'd been trying to run the last three Sundays we had been in Moab. It was time, even though the weather on the way home to Denver promised to be brutal.
Everyone else in the group had already headed for home, so only Don and Michael were doing the trail. We didn't get started as early as we had hoped, but we figured it would be okay.
We found the trailhead very easily and got started on the trail. The Guardian was a good time, and we figured the rest of the trail wouldn't get much more difficult. It did get a bit harder at times, but not by too much.
We saw a few people out on mountain bikes but that was it. The trail was pretty mellow as we wound our way around Sevenmile Canyon.
The trail got very straight and easy and we thought it would stay that way, and then suddenly we got to the switchback descent. It was pretty tight, and we were glad to have smaller vehicles. It was a pretty good time.
We saw vehicles parked at Dalton Well Road, and it looked like they were getting ready to go mountain biking. We kept going, and the trail was easy again.
Soon we were at the optional loop, and of course we took it. It was short but very scenic as it took us right to the borders with Arches National Park. There were signs marking the border in many places. It was definitely worth the side trip. We had a nice lunch in fantastic scenery on the far end of the loop, even though the weather was pretty chilly and a little windy.
After the loop it was very mellow again. We saw someone in a truck with a camper, and it seemed like a great place to stay.
We intersected with the Klondike Bluffs trail next, and there were lots of people at the trailhead. We didn't have time to run all the way out to the Bluffs, so we skipped it. We'll do that trail another time.
The trail through Little Valley was really easy, and the scenery was a lot different. We got through it pretty quickly and made the turn to the dinosaur tracks parking area.
There was a car in the parking area, so we assumed there were hikers up ahead of us. We saw them later, at the mining area. We were going to park and walk, and then Don noticed a sign down. He pulled it up and it pointed out the 4x4 trail that was next to the hiking trail. We looked harder, and there actually was a driving trail there. We got back in our Jeeps and drove up to the dinosaur tracks instead.
The drive was short but a lot of fun. It was rocky and tight in places, and a great time. We parked next to the tracks and got out to see them. It was pretty cool to think of how long ago they were made, and that we could still see them.
We continued up the trail and it was still challenging and fun for a little while. After the fence, it mellowed out. A sign noted that mines were in the area, but they weren't the scenic mines we're used to enjoying. There was PVC pipe all over the place, and a lot of junk. We went in for a distance until the trail seemed to die off, and then turned around and went back down.
The other half of the loop at the end is not maintained, unlike the half we were already on. It was tight in many places, with brush up against our Jeeps. There was even a place where the trail had washed away, leaving a big ditch to drive through. That was a fun, final thing to do.
We finally came around to the parking area at the end and aired up. It was time to get back to Denver. There was a big blizzard and we got caught in the temporary closure of I-70 just after having a great dinner at the Eagle Diner. It took us awhile to get home, but Copper Ridge was worth it.
Report from a Different Day