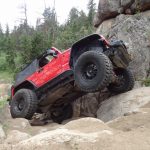 Red 2010 Jeep Wrangler Rubicon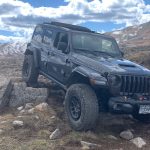 Gray 2022 Jeep Wrangler Unlimited Rubicon 392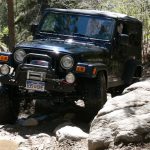 Black 2006 Jeep Wrangler Unlimited Rubicon
We started a gorgeous but long day with the Clear Lake trail. Michael had done it before, but it was new to the rest of us. The weather was perfect, and it ended up being one of the most beautiful trails we'd see the entire week.
We barely left Silverton and we were already at the trailhead. We aired down a bit to smooth out the bumpy spots, and then we were off. The early trail was very easy, but the scenery couldn't be beat. We saw many lucky RVs and other campers in the valley.
We made the right turn and started heading up the switchbacks. The trail immediately turned a bit rougher, but it was still pretty easy. The switchbacks weren't too tight, and there seemed to be room to pass other vehicles most of the time. In fact, we passed two vehicles carrying researchers on their way down. They were doing research up at Clear Lake.
The trail was nice in the trees, but when we came out of them the view was absolutely amazing. You could see for miles, and the sky was a gorgeous blue. We could see our trail switchbacking up the mountain ahead of us, and we thought it might be a rough one. Luckily, it just looked scary from the bottom -- it turned out to be a shelf road at times but usually a pretty mellow one.
We could soon see the waterfall ahead of us, and we couldn't wait to check it out. There was plenty of parking room at the switchback, and we were excited to walk to the water. Unfortunately, you couldn't walk very far. But we could get close enough for some great pictures. We stayed for awhile, enjoying the scenery and listening to the water.
We swung by the mine at the next switchback, but it was boarded up and no one got out. That meant we were soon on our way.
It got a little tight in places in the last half-mile, but then it opened up and we were at Clear Lake. There was good parking, and we were excited to get out and see it. You could definitely see why they call it Clear Lake. You could see the bottom of the lake, even when it was pretty deep.
Michael said that he'd done some fishing there recently, and that the fishing was good. He still enjoyed the trip up, even though he'd just seen it.
We saw the research being done up there, along with a sign explaining it. We also saw some hikers. Everyone was very happy, and it was a great way to start our day.
We soon headed back down, anxious to check out the other trails. We had a lot planned, but we could do it all. Right?
Report from a Different Day