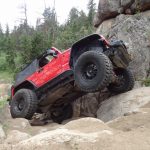 Red 2010 Jeep Wrangler Rubicon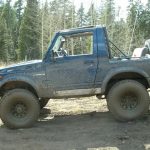 We did Carnage Canyon all the way to its icy end -- Kendall had to go around The Slab but when he gets his lift it shouldn't be a problem (the longer wheel base on a Cherokee makes it difficult). There was a little bit of sliding and wrestling with getting through a few spots, but otherwise it went smoothly. We got to Five Points and hung out for a long time -- the Forest Service is putting together a big map of the area so we got to see that and talk to them for awhile.
After we finished we went to Left Hand Canyon to play. We had quite a few adventures on that trail, and not all of them good!
Reports from Other Days: 8
Use the arrows or dots to flip through the previews of the other reports for Carnage Canyon LHC. Click one of them to read more and see all of the photos from that day.