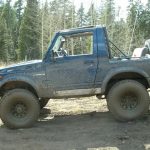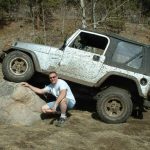 Silver 2002 Jeep Wrangler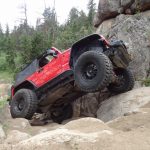 Red 2010 Jeep Wrangler Rubicon
This was really the first run of the season -- the season of going wheeling in Colorado almost every weekend. We ran into a few other people on the trail and quickly found out that there was snow just before the Rock Garden and it was too deep to get through.
We went to go check it out for ourselves and ended up with a nice day of wheeling anyway. There was snow in many places, making obstacles wet and muddy.
Kendall went to drive over a rock and ended up sliding off the side, high-centering Rokee pretty badly. He worked on it for awhile, then he got out of the Jeep and guided while Mike drove. He was finally able to get the front end off to one side far enough to get a front tire on the rock and get out from on top of it.
We got to just before Rock Garden and the snow was probably four feet deep. I guess we'll have to come back later in the season and try again! This is a really fun trail and great because it's so close to home.
Reports from Other Days: 14
Use the arrows or dots to flip through the previews of the other reports for Spring Creek. Click one of them to read more and see all of the photos from that day.