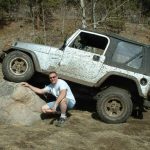 Silver 2002 Jeep Wrangler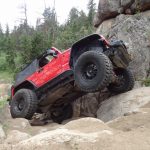 Red 2010 Jeep Wrangler Rubicon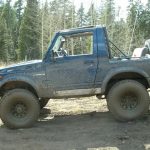 The three of us had a rematch with Slaughterhouse Gulch on a beautiful, sunny day. It was the middle of March but it felt like June in the mountains.
The trail wasn't very snowy (well, it was in a few places) so it wasn't a very big challenge. Kendall was trying out his new lift (it looked and flexed GREAT!) so we got a few poser shots.
The highlight of the day was coming around the corner and finding about 12 Jeeps from the Mile Hi Jeep Club playing in the mud. The mud was thick, deep and cold, and we all got a few runs in.
A great day and a mess to clean up!
Reports from Other Days: 15
Use the arrows or dots to flip through the previews of the other reports for Slaughterhouse Gulch. Click one of them to read more and see all of the photos from that day.