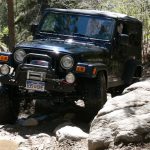 Black 2006 Jeep Wrangler Unlimited Rubicon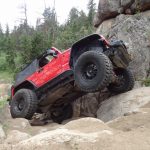 Red 2010 Jeep Wrangler Rubicon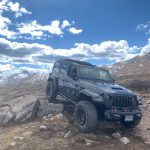 Gray 2022 Jeep Wrangler Unlimited Rubicon 392
Our approach to this trail was a little strange, admittedly. First we ran the northern half of Bolam Pass, then we did Scotch Creek from the end to its trailhead and back again, and then we finished the south half of Bolam Pass. It took a long time, but Scotch Creek made it all worth it.
We didn't even start at the far end of Scotch Creek until the light was already starting to fade. We knew it would be a long time before we'd be in this area again, so we voted and decided to run it anyway. We were glad we did.
The first few miles were very mellow, and we got through them pretty quickly. When the trail turned, we followed signs to Scotch Creek. That's when the trail got a little messed up.
It was filled with potholes. The trail was largely dirt and shaded by big trees, and the trail had eroded with big holes. Some of the holes tried to swallow our tires, and some could not be avoided. A good portion of them were filled with muddy water, and a couple of them had sticky mud at their bottoms.
The whole trail is one big climb from the trailhead to the intersection with Bolam Pass, so we were on a big descent. That meant that we were falling into the holes. We were happy when the holes ended and the trail turned to rock, but then we were falling down that. Some of the rocks were big, too.
When we got near to the end, we passed a guy in an old RV who obviously lived there, with his dog and cat wandering around. We got to the trailhead and realized that even though we were on pavement, it was still quicker and shorter to go back up Scotch Creek and finish Bolam Pass than it was to take the highway. We had a few snacks, then headed up. The guy with the RV just shook his head.
We were all glad we got to do Scotch Creek in this direction, because it was a completely different trail. The rocky climbs were fun, and you could find some challenging lines. And even the potholes of muddy water were fun if you were climbing uphill through them.
We really enjoyed the trail in this direction, much more than we enjoyed it on the way down. It was one of the few trails that we'd see over the course of the week that wasn't nicely manicured and maintained, and it was a good change.
It was almost completely dark as we got to the intersection with Bolam Pass, and we didn't stop. We headed out on the easy half of that trail, and we aired up in the dark. It was a late day, but well worth it. This was a cool trail.