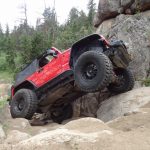 Red 2010 Jeep Wrangler Rubicon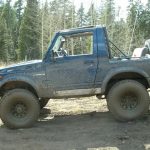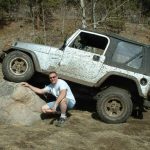 Silver 2002 Jeep Wrangler
We did this high pass before Radical Hill, as the trails run together. This is one of the "Holy Grail" trails of Colorado, with very steep hills of loose rock and dirt that are only passable going downhill. We took a lot of scenery shots this time, rather than the usual batch of Offroader posing shots, because the scenery was really spectacular. You drive to the top of Red Cone, a small area at the top of a mountain, then carefully drive down the other side (this is the scary part). You have to make sure your rear tires don't slide and force your 4x4 into anything other than straight down or there is a chance you could roll your vehicle -- and that would probably be a fatal accident as both sides of the trail slope down for hundreds of feet. We pulled it off without incident, though we heard that Red Cone was pretty tame this year.
Reports from Other Days: 9
Use the arrows or dots to flip through the previews of the other reports for Red Cone. Click one of them to read more and see all of the photos from that day.