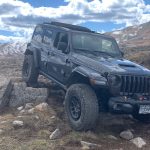 Gray 2022 Jeep Wrangler Unlimited Rubicon 392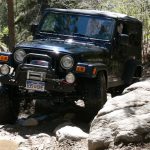 Black 2006 Jeep Wrangler Unlimited Rubicon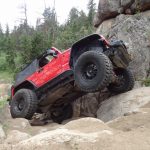 Red 2010 Jeep Wrangler Rubicon
We tried to conquer this trail in 2006 but we couldn't get everyone up the first obstacle so we turned around. This year we were determined to finish it, but we ran into more issues.
We got to the trail way before lunch, even after going up to Tusher Tunnel. We found the trail easily and found ourselves at 50-50 in record time. It looked the same -- sandy and steep.
Monica got on it first and tried a lot of different angles and lines. It wasn't looking very good until she tried the line on the far right. She gave it a hefty bump and she was up it.
Don didn't get to try this obstacle in 2006 because he was busy with kidney stones, so he was looking forward to getting a crack at it. He got up on it and gave it a good bounce, and then he heard something break. He backed down and his rear drive shaft had broken into quite a few pieces. He picked everything up and got it secured, then backed off of 50-50.
Michael had a really rough time on 50-50 the year before, and he nervously approached the obstacle. He didn't have anything to be nervous about, though, because his Unlimited just walked right up it. The longer wheelbase really helped him this time.
Bob was next, and he was sure he had the perfect plan. He found a great line and gave it a big bounce. He also heard a huge snapping sound when he came down, and he soon found out that he had broken his rear Dana 44 axle shaft very near his differential. He backed down, hoping everything else was okay.
Walt got on it next, a little concerned after seeing all of the carnage so far. Kendall joked that it was every other person who got damaged so Walt should be fine. Walt tried a few different lines, but then decided he'd rather winch. He winched up, in the end.
Kendall was adjusting his line at the bottom of the obstacle, ready to go up. He heard a snap and feared that he had also broken something in his rear axle. He drove around a bit, and everything seemed fine. He worked on the obstacle but it wasn't meant to be, so he also winched up.
When Kendall got to the top of the obstacle he found that his main leaf spring in the rear was snapped completely in two. He was done for the day, so he drove back down the obstacle.
That left three of us above 50-50 and three of us below it, broken. One obstacle took out half of us! The three people at the bottom worked on their damage and the other three helped where they could. We grabbed lunch there, and then we split up.
Monica, Michael and Walt headed around the corner to the next set of obstacles. No one had tried these before. The rocks seemed different after looking at them last year, and it seemed like it was going to be easier.
Monica went around Balancing Rock and over the rocks next to it without any problems. She got her passenger-side tires up on the hill on the side and leaned into the wall of the Pickle. It was close, but it wasn't close enough to really worry about it. It seems that the changes that were made to the Pickle obstacle made it into not much of a concern. She negotiated the tippy hill just after the Pickle, and then she was through it.
Michael had a longer wheelbase, but it didn't end up helping or hurting. The rocks next to Balancing Rock were no problem. He followed Monica's tire tracks around and through the Pickle, and didn't get too close to the wall. The final hill wasn't an issue, and then he was through it, too.
Walt was worried about his hard top, but now it seemed like it was going to be okay. He drove right over the initial rocks, then took a very high and tippy line through the Pickle. Even with the additional tipping he still didn't get too close to the wall. He popped right over the final hill and we all breathed a sigh of relief.
The Steps were fun, but not particularly difficult. Monica went through it tippy and dragging her rims across rocks, but she got through. Michael and Walt learned from Monica's mistakes and got through it without any rim damage.
We were soon at Wishbone, and no one even considered trying it. It could be fun and it seemed doable, but we had seen enough carnage for one day. We all went around it.
When we got to the sandy area and the intersection with Hidden Canyon we turned left and went up the hill. We backtracked a bit to quickly get back to the scene of the issues and the rest of our group. Everyone was finishing up, getting ready to head out to find their fixes. We stayed together for a bit, and then we split up again.
Monica, Michael and Walt went to finish the rest of the day's trails while Don, Bob and Kendall went to find repairs. Don found the last drive shaft in town that would fit his Jeep and he was good to go. Bob had to leave his Jeep at the shop so they could get the remaining pieces out and put in chromoly shafts. Kendall couldn't find Samurai springs so he was done for the week. He ended up going home the next morning, and Bob missed most of the next day's trails.
What a mess! The 50-50 obstacle is definitely not one to be taken lightly.