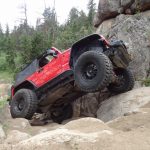 Red 2010 Jeep Wrangler Rubicon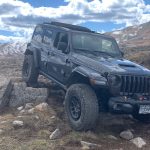 Gray 2022 Jeep Wrangler Unlimited Rubicon 392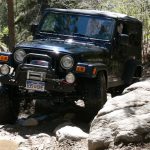 Black 2006 Jeep Wrangler Unlimited Rubicon
Walt had done Ophir Pass before, but it was new to the rest of us. We were just coming off of the Clear Lake trail, and the Ophir Pass trailhead was just a short drive up the pavement from there. The weather was still perfect, and we were looking forward to a mellow and scenic drive.
There were lots of people near the trailhead and Burro Bridge at the start, but we soon left them behind. We only saw a couple of other vehicles the rest of the time.
The scenery was good at the start, and Walt warned us that soon we'd have nowhere to pull off the trail for lunch. With that in mind, we stopped at a spur, parked, and had a good lunch. The scenery was really nice, staring at huge mountains in front of us.
We got moving again fairly quickly, though. It wasn't long before we were at the pass. As soon as we could see the other side we couldn't believe how gorgeous it was. It was very colorful, and very pretty.
We looked down the trail and couldn't see anyone coming up, so we headed down the long stretch of narrow trail. We immediately saw the old, illegal trail that used to bring people down from the pass not that long ago. It was very steep and it looked very loose and scary. No, thanks!
It was tough to keep our eyes on the road while we descended, but it was a pretty narrow trail with a big drop-off. We did our best to pay attention, and everyone made it through just fine.
We went into the trees, and the trail suddenly changed. It was shady, and everything was green. It was definitely a different feel.
We could see mines and remnants of tramways up on the Silver Mountain to the north, though there wasn't much left. It looked like it was rough mining.
The little town of Ophir was very cute, and we finally saw other vehicles. It was pretty crowded, actually. We slowly worked our way through town, and everyone noticed the Ophir post office. It is a little shack with barely enough room for a stool and work table. Cute!
When we got to the pavement, we turned north to go to Alta Lakes. Ophir Pass isn't just a handy way to get over to the other side -- it's absolutely gorgeous.
Reports from Other Days: 4
Use the arrows or dots to flip through the previews of the other reports for Ophir Pass. Click one of them to read more and see all of the photos from that day.