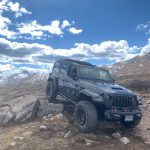 Gray 2022 Jeep Wrangler Unlimited Rubicon 392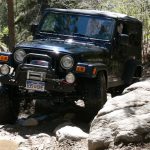 Black 2006 Jeep Wrangler Unlimited Rubicon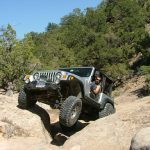 Silver 2005 Jeep Wrangler Rubicon
Mineral Creek is definitely a fun trail, but doing it first thing on a Saturday morning in August meant there was lots of traffic. We shared the trail with vehicles and ATVs going both directions, and many of the drivers were in a bit over their heads. Still, we had a great time on the bumpy stuff.
We aired down at the trailhead with lots of other people. We were getting ready with the people we finished Black Bear Pass with the day before, and we were all chatting. It looked like it was going to be a great day, with perfect weather.
We soon got started, and it was bumpy right away. We saw the Michael Breen Mine, but didn't stop. When we got to the intersection with Poughkeepsie Gulch, we passed it. Our plan was to check out the rest of Mineral Creek and then double back to do Poughkeepsie Gulch.
We took the detour to Mineral Point, noticing that the trail to the marker for Mineral Point hasn't been used in a long time. It is closed off, now. We did see some vehicles way off in the distance, and we guessed that they had used the illegal trail, anyway. It probably needs to be marked a bit better.
We continued on, and the trail snaked around through the mines. It was tight in places, and a good time as we worked our way back to the main trail. We checked out the San Juan Chief Mine, but only viewed the British Queen Mine from the trail. This looked like a popular ATV spot.
We kept going to the end of the trail, and just before the intersection with Engineer Pass we passed an older vehicle with a flat all-terrain tire. They said they had everything they needed, so we passed by. We soon made it to the end and turned around, so we passed them again in a matter of a few minutes. They probably thought we were lost.
We worked our way back to Poughkeepsie Gulch, and we didn't see as much traffic. Maybe it was all on its way to the Alpine Loop. Not us, though, we were doing Poughkeepsie Gulch!
Report from a Different Day