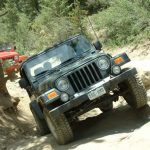 Green 2003 Jeep Wrangler Rubicon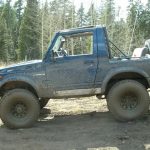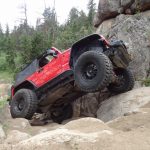 Red 2010 Jeep Wrangler Rubicon
We decided to run the Middle St. Vrain / Coney Flats trip starting with Middle St. Vrain. This direction might just be better than the other direction because you have a lot more rocky hills to go up. The weather was gorgeous and the trail wasn't very crowded.
It was a pretty uneventful run to the end of the trail near the bridge where we had lunch. There was the usual mix of hikers, bikers, fisherman and offroaders. It was nice to see the sun after about a week of clouds and rain.
The dogs had a blast chasing rocks and tennis balls in the Creek at the end. We didn't hang out long -- we were anxious to get to the Lake on Coney Flats!
Reports from Other Days: 13
Use the arrows or dots to flip through the previews of the other reports for Middle St. Vrain. Click one of them to read more and see all of the photos from that day.