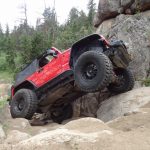 Red 2010 Jeep Wrangler Rubicon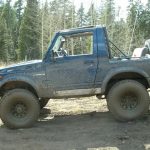 The Great Sand Dunes are an amazing sight, very tall and impressive when you stand at the foot of them. It's a weird area of sand dunes right in the usual outcropping of Rocky Mountains. On one side there are 14ers with a light dusting of snow and on the other side you can watch people ski down sand dunes.
We stayed in Alamosa the night before (it would probably be better to stay in Walsenburg, though). We got up and Kendall decided it was time to fix the muffler. It had a fist-sized hole in it and was driving Autumn crazy along with the rest of the family. He worked on it for awhile but finally ended up getting a new muffler which ended up working out just fine.
We ran the trail starting from the Sand Dunes side. There was a lot of traffic, but not the usual kind of Colorado offroading traffic. Most of the vehicles were full-sized and shiny, with new drivers behind the wheel. We saw a lot of trucks and SUVs (even a Liberty). Even with the sign that said to air down I'm sure we were the only ones who did. We aired down to 15 psi but in reality 20 or more would have been fine. Air down a little, then if you need it air down a little more on the trail (Westcliffe has free air).
The weather was pretty chilly but nice. Once we hit the end of the trail and pavement it started to get nasty, and then it started snowing. By the time we were airing up there it was a full-fledged snow storm. The first snow of the year for both of us!
The trail was very cool and it was good to get away. There is also a lot of camping by the Dunes which would be interesting. It might be better to run the trail in August, though, while it's still warm but not too hot. I would guess it's too hot in July.
Reports from Other Days: 4
Use the arrows or dots to flip through the previews of the other reports for Medano Pass. Click one of them to read more and see all of the photos from that day.