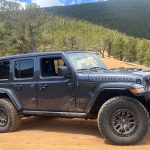 Gray 2022 Jeep Wrangler Unlimited Rubicon 392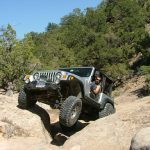 Silver 2005 Jeep Wrangler Rubicon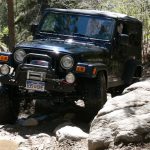 Black 2006 Jeep Wrangler Unlimited Rubicon
We had been on Stony Pass before, but in 2004 we drove by the Kite Lake trail to continue on to Creede instead. This time, we'd see Kite Lake. It was raining, but we were there already.
The creek crossing just after the trailhead was still pretty wide and deep, even in August. It probably was too deep to cross for much of the spring and summer. It would have been a fun one, crossing your fingers and driving into the water.
Michael enjoyed splashing through all of the new mud puddles on the trail. Otherwise, it was pretty quiet. We figured out that the trail was a bit longer than we had originally calculated, so we wouldn't be back in Silverton until well after dark. We thought about it, but we didn't turn around.
The trail was pretty bumpy in places, with potholes. That meant that most of the time we couldn't go very quickly. We went in and out of the trees, and even though you couldn't see far through the clouds and fog it was still gorgeous.
There were a few cars parked in places along the trail. We saw them all the way to the parking area for the hiking trail just before the lake. We even saw someone out walking around in the downpour.
The rocky section before the lake was pretty fun, so that was a nice surprise. It was a little slick from the rain, but not too bad.
The lake was gorgeous, and worth the trip. It was very blue, and looked pretty deep. The trail took us right next to the lake and to the far side where we parked. It was raining just a little bit, and then it cleared up. We enjoyed the scenery, but the light was fading so we headed back.
It stopped raining for a bit as the sun went down. It seemed like a long way out, but mostly because we still had a long way to go. We finally got to the trailhead, and then we went out on Stony Pass. Unfortunately, it was dark so we'd have to skip Cunningham Pass and save it for another time.
We got to Silverton at about 10 minutes after 9PM, and every restaurant was closed. We ran around town looking for something to eat, but there was nothing. At least it stopped raining.
We had some snacks and then headed off to sleep. We were going home in the morning, but of course we had trails to do first. It was a good day, even though it was long.