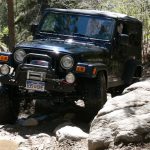 Black 2006 Jeep Wrangler Unlimited Rubicon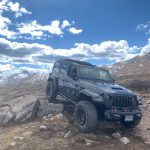 Gray 2022 Jeep Wrangler Unlimited Rubicon 392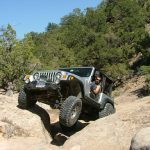 Silver 2005 Jeep Wrangler Rubicon
You can't do Black Bear Pass without completing the loop with Imogene Pass, and that's exactly what we did. It was easy to find the trailhead with a GPS, which was a nice change from the last time when we didn't have auto-routing. We even enjoyed our drive through Telluride, marveling at the houses and how much they must cost.
The trail runs along people's property, and some driveways and parking areas are there. It would be pretty cool to have "Imogene Pass" as your address. We were definitely jealous.
The views of Black Bear Pass from the beginning of the trail are always amazing. We couldn't believe we'd come down those switchbacks. They look so much worse from far away. Of course, being able to see Ingram Falls and Bridal Veil Falls along with the powerhouse was a bonus.
There are so many mines along this stretch of the trail. We were on the CB the whole time, talking about them. Even the little tunnel was cool. We also noticed that a lot of the aspen trees had been knocked down, maybe by heavy snows the winter before.
It didn't take long to get to Tomboy and Savage Basin. The weather was still nice, and we spent a lot of time exploring. We even saw a tour bus come through, going the other way. That was good timing.
Tomboy seems different than other mining sites. A lot of the equipment and buildings are newer than the same at other sites, and it seems more like trash at times. For instance, a rusty barrel sitting in a mountain stream that is only 60 years old may seem like garbage, while a set of gears from a mine from 100 years ago seems more historical and scenic. At what point will rusty barrels at Tomboy look scenic?
We probably enjoyed Tomboy the least of all of the mining sites we'd see over the course of our week, though it was interesting. It was such a big site, and it made you wish you could see it as it was, in its prime. We even saw a deer there, by itself, which seemed odd.
We worked our way up the talus to the pass, and the views were incredible. Sometimes it felt like we were in an airplane, we were so high in elevation.
Just after the pass, we went up to the overlook. The last time we were here, it was raining and the overlook was treacherous and slick. This time, it was an easy drive. Though it would also be pretty easy to drive right off the side, so we were especially careful.
It was windy and getting pretty chilly, but we all took time to check out the scenery. You could see for miles in almost every direction. Going up to the overlook was definitely worth it.
The descent was pretty quick. We drove around the loop near the Hidden Treasure Mine, but we didn't get out. The sun was going down, and we still had a few miles to go.
At the sign for Richmond Basin, we took the spur to go see the waterfall. The sun was on its way, but there was still enough light. Michael and Don both went off exploring, finding a place to cross that wasn't too slick or muddy. The rest of us explored the immediate area.
We put in windows and put up soft tops at this point, because it was getting chilly. We enjoyed the way out, and we all had fun in the last water crossing just before the trail's end.
We discussed going up to Yankee Boy Basin or Governor Basin, but the sun was almost down. We were done for the day. That meant that we got to see Camp Bird Road in a little bit of daylight, and we were in Ouray in time for dinner. It was a great day!
Reports from Other Days: 4
Use the arrows or dots to flip through the previews of the other reports for Imogene Pass. Click one of them to read more and see all of the photos from that day.