Gold 1999 Chevrolet Blazer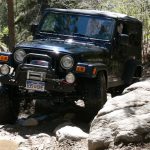 Black 2006 Jeep Wrangler Unlimited Rubicon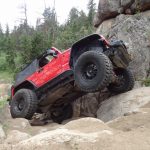 Red 2010 Jeep Wrangler Rubicon
This was our first time exploring the trails in this area and we didn't really know what to expect. We found more than we were hoping for in a big network of trails, so it ended up being a great time.
We thought that we would go out to see Jewel Tibbetts Arch and then have to turn around and come back, but the trail kept going. That meant that the original plan was thrown off from the start, but everyone was in good spirits and up for exploring.
That section of trail ended up being one of the most fun ones, with lots of narrow sections and surprise obstacles all over the place. There were lots of fun ledges and loose sections that gave us all fun areas to work on and play on.
We guessed that there was a section of trail that we missed, and we spent a good portion of the morning looking for it. We never found that particular section, but we did find other sections that we weren't expecting.
One surprise was the Crazy Hill. We were following the trail and all of a sudden it just ended. We got out to look and found a trail at the bottom of the hill we were on, with a big mess in between. It looked like it may have been an obstacle at one time, but we weren't sure it was doable anymore. A dirt bike or bicycle would probably have fun on it, but anything else would have major issues. We skipped it and backtracked back to the trail.
After we explored a lot near the end of the trail we took off to get a little closer to Mineral Point. We took another trail off of the main road and found the Ravine, which was a nice surprise and a lot of fun. It was a steep hill to go down to get to the bottom, with a nice ledge in the middle. Then to climb out we were on slickrock with more ledges. It would have been just as fun in the other direction. We thought about playing in the Ravine for a bit, but we had a lot of trail yet to cover so we pushed on.
We ended up at Mineral Point at the far end, and the scenery was fabulous. We ended up in two groups and we yelled at each other across a big gap. We had a good time throwing big rocks off the sides (they took a long time to finally hit bottom).
We didn't really want to leave, but we finally had to. We hoped to find some more trail on the south end of the area, but we didn't have much luck. We'll have to try again later.
It was a good trail and one we'd do again.