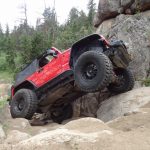 Red 2010 Jeep Wrangler Rubicon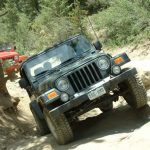 Green 2003 Jeep Wrangler Rubicon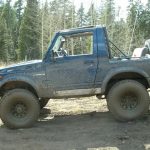 The Lake at the far end of Coney Flats is always such a blast and this time was no exception. We had it almost to ourselves the entire time and we played for a long time.
We ran Middle St. Vrain first and came up the big hill from there to the Lake. We did run into another Jeep and some ATVs on the way up but they moved out of the way for us. It was pretty tight in there.
Kendall only went through twice. The first time was very slowly and the second time was even slower. The second time he let Kendra "drive" sitting in his lap. She hammed it up for the camera and spent the rest of the time at the Lake throwing rocks into the water and squealing. She had a good time watching the dogs play, too. Sid actually went from one end of the Lake to the other, which is a bold move for the normally timid dog.
Monica went through a few times, and so did Sean in Ladd's Jeep (Ladd is Sean's dad). We even went through a couple times, passing each other in the middle of the Lake and splashing each other on the way by with the wake from our tires. We're probably lucky no one got water logged.
The rest of the trip down the trail was pretty quiet and relaxing. We took it slow and only saw a couple more people on the way out. Beaver Reservoir at the end was quite a bit more shallow than it was a few weeks prior. They must have needed to drain it.
What a good day of fun!
Reports from Other Days: 13
Use the arrows or dots to flip through the previews of the other reports for Coney Flats. Click one of them to read more and see all of the photos from that day.