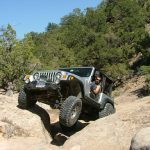 Silver 2005 Jeep Wrangler Rubicon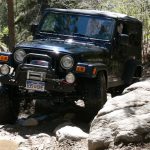 Black 2006 Jeep Wrangler Unlimited Rubicon
Michael bought a new Jeep and wanted to test it out before our trip to Moab, so we headed out to Carnage Canyon. We started on the trail and Michael realized that he was almost out of gas. We turned around and headed back to town to get some gas for his Jeep.
We ended up eating lunch in a parking area near the gas station, then we headed back to the trail. It looked like we'd have the trail to ourselves except for the usual number of shooters near the "No Shooting" sign.
There was a lot of water on the trail, and it was almost like we were following right down the middle of a shallow stream the whole way. It was pretty clear water, and not really muddy. It was pretty cool.
We skipped Guardian Rock and continued on. The weather was perfect, and we were really enjoying the day. We both went through the Squeeze and didn't have any issues.
Don got to the Slab first, and he decided to try it. It was wet and muddy at the bottom, but the slab was dry. He tried to crawl it first but it was too slick, so he backed up and tried it again with a bit of momentum. That worked, and he was at the top. At first, it seemed like he might be a little high centered, but he worked on it a little bit and made it over.
This run was designed to test Michael's Jeep, but when Don saw the Waterfall he said he had to try it. We usually go around it, and he wanted to give it a try. He got up on the right side, straddling the crack on the farthest side.
He got up on it, but with the running water at the bottom his tires were really wet. He kept sliding to the left, so he adjusted his line. He was working his way back up on the new line when he heard the snap of his front, driver's side axle shaft breaking.
He backed down off of the obstacle and worked his way to a flat place on the trail. It was a few inches deep in running water and he was stuck in bad place after bad place. He had to use his winch to get his Jeep to a place good enough to change the axle shaft.
Don discovered that the stub shaft and U-joint were both destroyed. He switched the whole shaft out for a spare without any problems, though, and soon they were on their way again.
They both went around the Waterfall after that. It wasn't long before they were at Five Points and heading back down Left Hand Canyon. That trail was really muddy, with lots of puddles.
Even with the broken axle shaft, the day wasn't long at all. It was a good warm up for Moab!
Reports from Other Days: 8
Use the arrows or dots to flip through the previews of the other reports for Carnage Canyon LHC. Click one of them to read more and see all of the photos from that day.