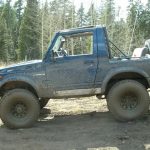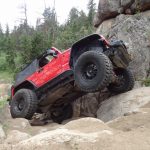 Red 2010 Jeep Wrangler Rubicon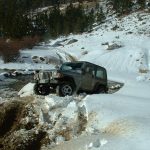 Silver 2000 Jeep Wrangler
It snowed a good portion of the week before we went offroading, so the trail was covered in snow. We met a forest service person at the top of the trail (in a foggy snow) who said he would have closed the gate that morning but he saw there were tire tracks going in already and he couldn't lock them in there -- so we lucked out. It was fairly chilly and snowing when we started out from the side closest to Nederland, though there were blue skies with a few clouds by the time we hit Caribou Creek itself (we had to stop and help an Xterra that had gone to 2-wheel drive and was hopelessly stuck). Kyle tossed a rock into the Creek and it sat there on the ice, so it was frozen on the top (we broke that up right away!).
We didn't spend much time at the Creek the first time, as we went on to the Whoopdeedoos right away. They're interesting covered in snow! After the Races (see below) we turned around and had a bit more fun in the Creek, then headed out because the fog was rolling in again.
Caribou Creek Whoopdeedoo Races: we drew a line in the snow from the 505 sign to the tree that splits at the bottom as our starting line. You had to start at a dead stop here at the bottom, race to the top and around the trees, then back down to cross the starting line again (stop watch halted when your front bumper crossed the line). What a blast! We each got two runs (Monica had an embarrassing run of over two minutes the first time, a little too much go pedal from the start). We're going to try to run this race twice a year -- once in the snow and once in dry dirt.
1st Place: Kendall (39.80 seconds)
2nd Place: Kyle (47.96 seconds)
3rd Place: Monica (51.22 seconds)
Reports from Other Days: 7
Use the arrows or dots to flip through the previews of the other reports for Caribou Creek. Click one of them to read more and see all of the photos from that day.