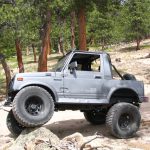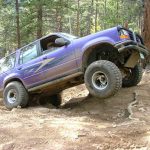 Purple 1994 Ford Explorer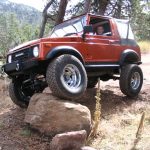 Orange 1987 Suzuki Samurai
We started by meeting at the Diamond Shamrock in Lyons at 10:00AM, and since we had two Samurais we figured to top off the gas tanks before heading up.
We started out on the Bunce School side of the trail, and read that the school was built in 1888. This is a trail that is fairly close to town and we were just using it to work out some bugs and test new suspensions on the vehicles.
After airing down we headed up the trail, which is pretty easy for most 4-wheel vehicles. Since it was a holiday, there were many different vehicles out enjoying the day. There are a couple of spurs off the main trail that are a little harder and many people don't know about them, so we took the first one we came to.
The loop we took is marked as Forest Service road 216 and it starts out pretty easy, just weaving in and out of the trees. Soon you come to a very long uphill climb that is full of smaller size rocks, so if you are open it will make tire placement very important because you don't want to stop and then try to restart yourself on the hill if you can help it.
Once we got to the top of the hill we stopped and took some pictures and talked about the trail since most of the group had never been on it before. We also had a good time talking about the different vehicles on the trail.
After making the loop we headed back to the main road. The weather was perfect, with sunshine most of the day. There are usually a few mud puddles that you have to drive through, but since it has been so dry most of them were dried up and there weren't many chances of getting muddy.
We took the next turnoff marked Forest Service road 202, which takes you back to a open space that is full of sand. It is a very popular place for ATVs, but when we got there there were only a couple of ATVs playing in the sand. The two Samis decided to go play in the water that runs through the sand in the spring while the rest of us just chatted.
There is also another off-shoot that will take you up to an old airplane wreck, but we decided to leave that for another time. That part of the trail is very narrow in places.
After the Samis had enough of the water and all of us got in our flex shots, we headed back to the main trail and finished the last of it without any trouble.
This is a good trail for beginners or for anyone needing to try out new modifications you have made on your vehicle since it's close to the city. There are also a couple rocks that people have found to climb, so there are people doing more then just 4-wheeling in the area. It is also a good camping area for those that would like to spend more then one day, and it is close to a couple other popular trails.
Reports from Other Days: 7
Use the arrows or dots to flip through the previews of the other reports for Bunce School Road. Click one of them to read more and see all of the photos from that day.