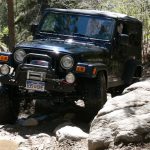 Black 2006 Jeep Wrangler Unlimited Rubicon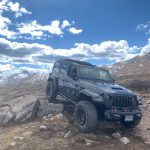 Gray 2022 Jeep Wrangler Unlimited Rubicon 392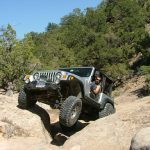 Silver 2005 Jeep Wrangler Rubicon
Today was a big day, the day we'd run Black Bear Pass. The loop made with Imogene Pass was a long one, but we wanted to check out a new trail on the way there. We headed up to take a look at Bullion King Lake first, and it was a fabulous way to start our day.
The weather was perfect again. It was sunny and already getting warm as we turned off of the pavement and onto the trailhead. Georgina and Don both love water, so they were especially happy to be on this new trail named after a lake.
The initial climb was easy and gorgeous, with big mountains to watch across the highway. One mountain had scary switchbacks crossing over it all the way to the top, and we all discussed whether they looked used or not. We could see a building at the top, but not its condition. Was this an old mining road no longer in use?
We could see the beginnings of Black Bear Pass across Mineral Creek, and we saw a spur that might connect the two. We wanted to see all of both trails, so we wouldn't be taking the spur this time.
When we came to the sign saying that the road got rougher, we saw a car parked just below it. Still, how rough could it be? We kept going, and it got quite a bit rougher right away.
First of all, it was very, very narrow. Larger vehicles would nearly be hanging off the edge. And if you came across another vehicle going the other direction you would have to back up quite a distance in places. This probably isn't a place where tour vehicles go.
After the narrow part ended, we spotted a waterfall in Porphyry Gulch, a distance from the trail. We snapped a few pictures and kept going. Then we saw another waterfall, but this one was right next to the trail. Cool!
We parked and walked over to it, and many pictures were taken. It rushed over black rocks in the bright sun, and it was gorgeous. Both Don and Georgina had to go put their hands in the spray, and everyone had a great time. Michael even made a snow angel in a snowfield.
We kept going, enjoying the scenery. Then we had a great time on the bumpy stuff. There were a few rocky obstacles, but nothing our Jeeps couldn't handle. It was nice to go over a bit of rough trail.
At the parking area, we all prepared for bad weather and started walking. We didn't need to, though, because it stayed warm and sunny. The hike to the lake was a mellow one, following the old trail.
The lake was so beautiful! It was a deep blue color, with yet another waterfall at the far side. It looked like you could get to it, but the walk would take a bit of time and effort (time we didn't have).
There was a ledge of rock that stuck out into the lake, just a few inches below the water. And then the lake just got really, really deep. We all wondered how deep it was. The shoreline was nice, and it would be a really great place to hang out.
We stayed for awhile, and we all wanted to stay even longer. We talked about coming back the next time and spending more time there. The narrow spot and rocky sections keep the majority of the people away, so it would always be a quiet time there.
What a great find! This is one of our new favorites. You can't beat the scenery, and you even get some challenges. We'll definitely be back.
Report from a Different Day