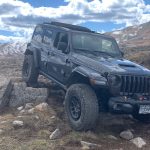 Gray 2022 Jeep Wrangler Unlimited Rubicon 392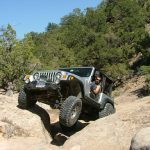 Silver 2005 Jeep Wrangler Rubicon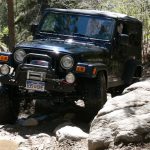 Black 2006 Jeep Wrangler Unlimited Rubicon
We'd done the loop made by Black Bear Pass and Imogene Pass before, but this time we were blessed with sunny and warm weather instead of chilly rain. We started the day with Bullion King Lake, so we were already in great moods. We started the trail, and clouds started rolling in.
We stopped for lunch, thinking that our sunshine was leaving soon. We had disrupted the activities of an angry marmot, who whistled at us the whole time we were there. It was a nice lunch. Of course, the sun came right back and we had sunshine for most of the rest of the day.
The climb to the top was fairly mellow, and we enjoyed it. There was an optional obstacle on the way up, where the trail split. We took it, of course, and everyone enjoyed the little, rocky climb.
The views from the pass were gorgeous, and it was cool to see the trail stretched out in front of us. We didn't see anyone coming up, so we headed down.
There was evidence of mining here and there, but it wasn't as heavy as it was on many of the other trails. It was the basin and the mountains in front of us that made it beautiful the whole way down. We caught up to some other vehicles, so we hung out to wait for them to get further ahead of us.
There were some optional lines on the way down that offered a bit more of a challenge than the regular trail, but nothing was difficult. It wasn't long before we were on the rocky switchback above Ingram Falls.
This switchback had just claimed another life, when someone was on the trail during a huge rain storm. It gets very slick, and if you slid off of it you could fall for thousands of feet. However, when it's dry, it's pretty mellow.
Everyone got around that and the next switchback, and then we were at Ingram Falls. We spent a lot of time here. Don ran through the falls (of course) and we all pointed out things on the Cascade Tunnel Mine. Some of it is still standing, while much of it has caved in. There were many things to speculate about.
We all had Jeep Wranglers, so the next "dangerous" switchback wasn't bad at all. If you got too close to the edge it would probably be fatal, but that's true for a lot of trails in many states. If you're paying attention, this switchback is intimidating at best.
We went down the next few switchbacks, and we had caught up to the group in front of us. We ended up at the hike to Bridal Veil Falls at the same time as they did, and we were a big group of people. We hiked up to stand in the spray from the falls, and it was beautiful in the sunshine.
After enjoying the falls, we made the quick trip through Telluride to start Imogene Pass. Black Bear Pass is definitely one of our favorites, as always. It has gorgeous waterfalls, great mountain scenery, and some dangerous sections to make your heart race. Perfect!
Reports from Other Days: 4
Use the arrows or dots to flip through the previews of the other reports for Black Bear Pass. Click one of them to read more and see all of the photos from that day.