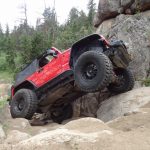 Red 2010 Jeep Wrangler Rubicon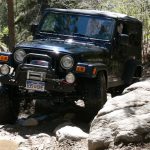 Black 2006 Jeep Wrangler Unlimited Rubicon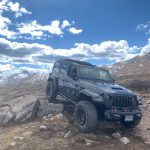 Gray 2022 Jeep Wrangler Unlimited Rubicon 392
The Alta Lakes trail really packs a lot of different scenery and challenges into a small space, and we were pleasantly surprised by what we found there. It was a new trail for all of us, and everyone enjoyed it.
We had just come down from Ophir Pass, and the Alta Lakes trailhead was very close by and easy to find. We were already aired down, so we just started up. It immediately began climbing into the trees, and it was shady and relaxing.
We popped out of the trees, and the views were very nice. We skipped a spur to save time (it looks like it goes to Wild Boy Lake), and soon we were at the townsite for Alta. We spent quite a bit of time there, enjoying the scenery.
There are lots of buildings still standing, but we didn't really explore. We stood near the mill and marveled at the equipment there. Don pointed out that they were using electricity, based on some of the rusting hulks of metal laying on the ground. It turns out that this site was one of the first ones to do so.
We didn't check out the big buildings or go down Boomerang Road at all. Instead, we kept going to Alta Lakes. We made a brief stop at the campground pit toilet, and then we were off.
There were quite a few people at the lakes. Most people were fishing, but some were just hanging out. A little boy started crying when we rolled by, and his mother informed us he was afraid of cars.
We explored a few of the spurs, some of which abruptly dead-ended. When we worked our way around the northern lake, we found a fun section of rocks in the shade. They were fun to go down, and later they were also fun to go up. There were other spurs, but we passed them up.
You could definitely spend some time here in the scenery. It was beautiful, and the trail was easy to get to the campground. It was probably very busy on the weekends.
We went back to explore Gold King Basin, which was completely different. It was much like other basins in the San Juan Mountains, with mines everywhere and gorgeous scenery.
We drove by a private drive, and at it was a gorgeous and huge house. It must have cost millions to build in this location. We were all jealous.
We stopped at the Silver King Mine, and everyone got out to stretch their legs. You could really see for miles looking back, and the views were really awe-inspiring. But soon, we realized we needed to keep going.
The trip back down was quick and fairly uneventful. We weren't aired down much, so we stayed as we were and headed south on the pavement to the far end of the Bolam Pass trail. We stopped at a rest area on the way there to read about the area and Lizard Head Pass. It was a very scenic drive.
Reports from Other Days: 2
Use the arrows or dots to flip through the previews of the other reports for Alta Lakes. Click one of them to read more and see all of the photos from that day.